Paint the Town Grants
The current Paint the Town Grant round is closed. The next round will open early 2019.
SMIF's Paint the Town Grant Program grants are designed to engage volunteers, create a sense of community pride, and build collaborative efforts that beautify communities through "Painting the Town" with a new community mural, community welcome sign, or painting an historic structure. Paint the Town grants are administered by SMIF in collaboration with three Ace Hardware franchises located in our region. 
IRS-designated 501(c)(3) nonprofit organizations and units/agencies of local, state, and federal government in southern Minnesota can apply to receive paint products. This is a competitive grant; up to 10 small communities with a population under 10,000 will be awarded paint. For more information please contact Jennifer Heien, Grants Coordinator, at 507-214-7040 or jenniferh@smifoundation.org.
---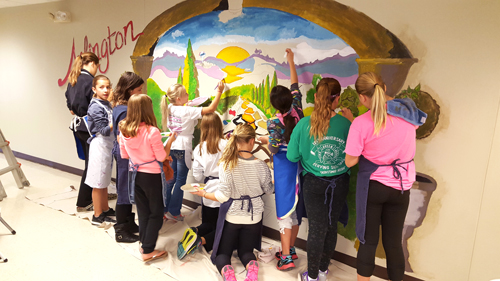 Arlington Community Center
The City of Arlington created two new murals in their Community Center with the help of nearly 15 volunteers and a Paint the Town grant in 2015.